Congratulations – 6th Grade Ultimate Varsity Winners!
Posted on: November 21, 2022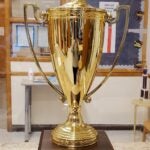 The Eckstein Golden Eagles won the 6th grade championship on Saturday, beating Aki 11 to 8. It was an amazing team effort to defeat such a tough opponent. Eckstein was down at halftime 4 points to 6. But in the second half they combined massive layout Ds with head topping catches to tie the game at 7 all. The hype in the stadium grew with each point as Eckstein pulled ahead 8-7 and then 9-7. On game point, Aki was poised to score but Eckstein got a huge D and then hucked the disc to the opposite end zone for a leaping grab for the win. Go Eagles!!