Fall 2022 Library News
Posted on: September 19, 2022
Learn how to check out books from the Eckstein Library, read eBooks or audiobooks from Seattle Public Library, donate supplies for the MakerSpace, donate popular books published in the past 3 years you no longer need, and follow Eckstein Library on TikTok and Instagram @ecksteinlibrary for book suggestions, events at the library, and more!
General Info
Contact Info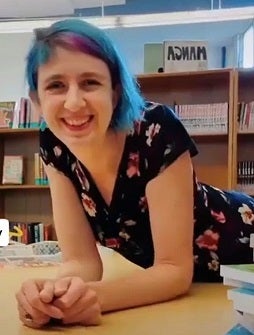 Librarian: Erin Sterling (she/her)
Email: emsterlingseattleschools.org
TikTok and Instagram: @ecksteinlibrary
Hours
Before school 8:45 – 8:55
Anytime during school with a pass from a teacher or lunch
After school 3:45 – 4:05
Checkouts
Check out as many books as you'd like
Books are due in 3 weeks AND…
You can always renew a book!
MakerSpace
Every week, different MakerSpace activities are featured at lunch! Sometimes classes will use the MakerSpace as well.
eBooks and audiobooks!
Every student has a digital Seattle Public Library card for all online resources. Libby can be found on the Clever Portal. Every student was given a sticker with their library card number and pin.
You can also watch this video to learn how!
You can help!
Volunteer at the library!
Shelving
Cataloging help
Organizational help
MakerSpace help
Donate books or materials!
Donate books published in the last 3 years in good condition
Find popular titles we could use more of here
Donate specific types of supplies for the Eckstein MakerSpace email Erin Sterling at emsterling@seattleschools.org with other supplies not listed there.