May is Bike Month!
Posted on: April 16, 2023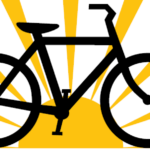 Eckstein Bikes will host events at school every Thursday during the month of May for students who bike to school. Events are at the bike cage in the back of the school.
May 4 – After School Kickoff (3:45 pm)
May 11 – Donut Breakfast (8:35 am)
May 18 – Pancakes!
May 25 – Celebrate After School (3:45 pm)