Curriculum Night – Sept. 27 (6:30-8:15 pm)
Posted: | Updated: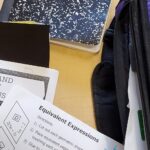 Come and meet the team of teachers working with your child!
Curriculum Night will be on Wednesday, September 27, 2023, from 6:30-8:15pm.
Parents will follow their student's schedule of classes. Each class meets for 10 minutes with a 5 minute passing period to get to the next class.
This event is for parents/guardians only.
Curriculum Night Schedule:
6:00-6:25 The Source/Schoology with Ms. Sterling and our Sexual Health Instruction Overview
6:30-6:45 Homeroom (Welcome Video with Administration Team, Wellness Team, and Support Staff)
6:50-7:00 1st Period
7:05-7:15 2nd Period
7:20-7:30 3rd Period
7:35-7:45 4th Period
7:50-8:00 5th period
8:05-8:15 6th Period
Be on the lookout for your child's schedule and Eckstein map during the week of September 25, 2023!