Safety Protocols
Community Commitment to Safety​
When safety is SO important, it is important we ALL do our part to ​
keep us safe during a global pandemic.​
​STAFF will support students, share expectations, and ​
remind students​
FAMILIES will remind students of the importance of ​
following guidelines from the school and district​
STUDENTS have the most important role:​
Be vigilant in hand washing, socially distancing, and mask wearing.​
Show commitment to working as a community to clean up after ourselves​
Entering Class
Sanitizing your hands​
3 ft while waiting your turn​
Use one pump on your hands​
Walk to your seat, rubbing your hands until dry
Masks on at All Times​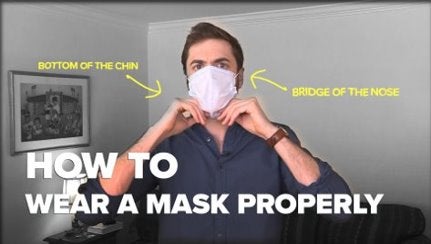 The only exceptions are when using water bottles or eating​
When eating or drinking, please take a sip or bite, then place your mask back on until the next. If you are not actively eating or drinking, ensure your mask is on.​
Masks should extend below the chin and over the nose​
Walking in the Hallways
When in the hallway, stay on the right​
This helps people travel and stay distanced​
Independent Movement in the Hallways During Class
Socially distanced and purposeful​
Directly to where you are going and directly back ​
Nurse Follow directions on Nurse's door for where to enter to get help​
Wellness Center (formerly Counseling Center) Following social distancing protocols while waiting. If your counselor is busy, leave a note and return to class.
Bathroom Usage​
Alternate sinks and stalls when possible​
If all spaces are used, students will wait outside the bathroom until another student exits​
If time is tight, go to class and ask to return to the restroom later.
Lockers
Because you are carrying a computer and materials between classes, you are allowed to use a backpack.​​
Lockers before school, lunch, and after school​
Choose carefully what goes in your backpack. They can get very heavy being carried all day.​
Entering and Exiting the Building
Students will be welcome in the building at 8:45 each day (unless they are eating breakfast).​
Please plan on arriving at school no earlier than 8:40 am each day.​
Once students come on campus, they must remain on campus. Can't come on campus then decide to go to Safeway for example.​
Only visitors with appointments are allowed in the building at this time. If you need to drop something off for your student or pick up your student, please come to the main doors on 75th Street nearest to 30th Avenue and call the main office at 206-252-5010.
Picking up Meals
How to Get Breakfast
Enter through the garden no earlier than 8:25 AM.​
All breakfasts are free.​
Follow spacing guidelines​​
Clean up, wipe down, and remain in the lunchroom until 8:45 AM –or- go back outside (no school entry until 8:45 AM)
How to Get Lunch
To get lunch, follow signs to ENTER and EXIT the line appropriately
Lunch Details
To make sure students are safe during lunch:​
We will have four different areas for students to eat: Auditorium, cafeteria, field, and in the garden (spaced seating around the garden, picnic tables or under the tent)​
Each student will have an inside, assigned location. Students can opt to eat outside in a location of their choice – field or garden.​
On the first day of school, those students with first lunch should report first to period 3 so your teacher can show you your assigned inside lunch location. Students can then exit to eat outside if they so choose. After lunch they will report back to period 3. On the 2nd day of school, those with first lunch will report straight to their lunch location without going to period 3 first, choosing an indoor or outdoor experience.
Lunch Locations​
When eating outside, student MUST:​
Eat facing the same direction ​
-or-​
Stagger seating so no one is seated directly across from one another.
Locations​
6th grade (first lunch) in the Auditorium​
7th grade (both lunches) in the Cafeteria​
8th grade (second lunch) in the Auditorium​
​
Outside options (open to all students)​
Under the tent in the garden​
In garden on the benches or picnic tables​
On the field (half of the field will be used for PE classes)​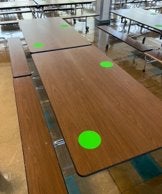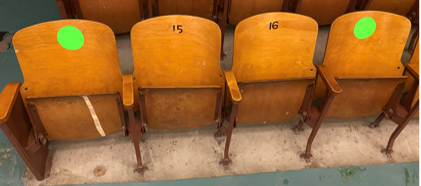 When assigned to the Auditorium for lunch​
Go to Cafeteria to pick up school lunch (if needed)​
Exit outside door near cafeteria line to re-enter building by room 118 to get back to auditorium​
Enter the auditorium from the three banks of doors across from the Main Office.​
Find your third period teacher's name and sit within that area.
Eckstein Middle School Bell Schedule for 2021-2022:
Your Stuff
Backpacks: Keep it out of walkways and on desk hooks when available.
Water bottle: Filled at home.
Computer: Bring fully charged each day.
Charger: Put your name on it.
Various supplies from classes: Communicated from teachers.
Cell phone: Silenced and kept in backpack or locker.
Care of Computer
Keep it in the case during travel between classes.​
At the end of class, make sure to return it to the case before leaving.​
Every night, plug in your computer and turn it off​
Remember to bring your charger with you each day.​
A charged computer is a happy computer!
Planners
Part of what you are developing in middle school is ​
Executive Functioning Skills​
Examples of these skills are:​
Knowing when assignments are due​
Organizing your time to complete long term projects​
Completing your homework each day​
Let's add some important dates to our planners!​
Picture Day – September 7 ​
No School – October 8, November 11, November 25-26​
Winter Break Dec. 20-Jan. 2​
Teachers will be reminding you to use your planner in each class. Keep it handy. ​