About
About Eckstein Middle School
Contact Us
Eckstein Middle School
3003 NE 75th Street
Seattle, WA 98115
206-252-5010
eckstein@seattleschools.org
Report a problem or problem solve issues
Updated – Visitor Protocol
The front doors of the building remain locked throughout the school days.
When arriving to the building, come to the doors on NE 75th Street, closest to 30th Avenue.
Please call: 206-252-5010 and someone will meet you at the door.
No unauthorized visitors are allowed in the building during the school day without an appointment at this time.
Students arriving late will be greeted at the door and let in.
Adults dropping off items for students must call the main office and someone will greet them at the door to retrieve the item.
Students leaving early must have a note/email/call to be released. Contact Attendance at 206-252-5014 or ecksteinms.attendance@seattleschools.org
Parents picking up students early must remain outside. Call Attendance to retrieve your child.
We strongly suggest you contact Attendance prior to picking up your child to avoid delays.
Adults with appointments with staff during the school day will need call the main office upon arrival with the name of the staff member then sign in at the main office first.
Nathan Eckstein Middle School
Eckstein Middle School serves northeast Seattle students in the 6th, 7th and 8th grades.
---
Our Mission
Eckstein Middle School, a diverse community of life long learners, will ensure the academic, social, and emotional growth and success of each student.
---
Vision
Each student will be known, nurtured, and challenged.
Each student will be given opportunities to actively engage in achieving their full potential.
The school environment will foster creative problem solving.
The school will provide an atmosphere to guide each student in becoming a healthy, confident, resilient, and responsible world citizen, prepared for high school and beyond.
---
Assurances to Students
Your academic and social well-being will be at the core of all staff decisions.
Your teachers will empower you to become leaders in the learning process, value your perseverance and creativity, and provide you with quality feedback.
Your teachers will integrate technology within the curriculum preparing you for the 21st Century.
You will benefit from teachers who collaborate to create lessons that will positively impact your achievement.
You will benefit from staff who works to ensure an inclusive, safe, and supportive learning environment that honors individuality and encourages self-advocacy.
You will benefit from a staff that values family, diversity, and community partnerships. Eckstein will strive to increase parent/guardian involvement.
You will benefit from a staff that will communicate with the elementary and high schools to create smooth transitions.
---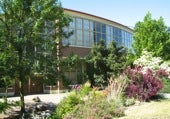 Contact Us
3003 NE 75th Street
Seattle, WA 98115
Main Office: 206-252-5010
Fax: 206-252-5011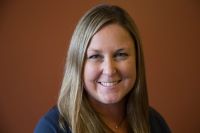 Principal
Kristin Rose
kprose@seattleschools.org
6th Grade Administrator
Michael Weyers
mjweyers@seattleschools.org
7th Grade Administrator
Berna Cristobal
bjcristobal@seattleschools.org
8th Grade Administrator
Jolene Anderson
jaanderson@seattleschools.org
Main Office
206-252-5010
Ann Peterson
apeterson@seattleschools.org
Julia Detering
jrdetering@seattleschools.org
Attendance
206-252-5014
Katy Ryan
karyan@seattleschools.org
---
School History
When Eckstein Middle School was built in 1950 with a capacity of 1300 students, it was considered one of the largest single-unit schools in the Pacific Northwest.

Eckstein opened as a junior high school in 1950. Here are some photos documenting our history.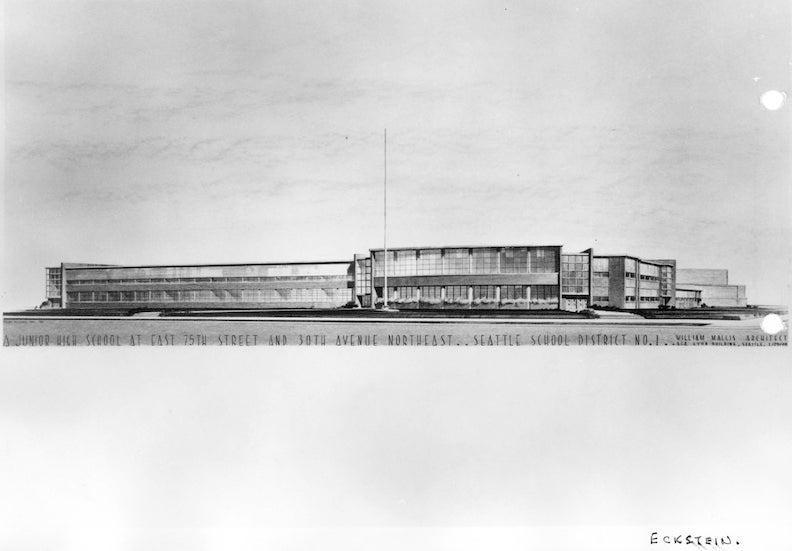 An architectural sketch of the design for Eckstein prior to construction. Photo courtesy of SPS Archives.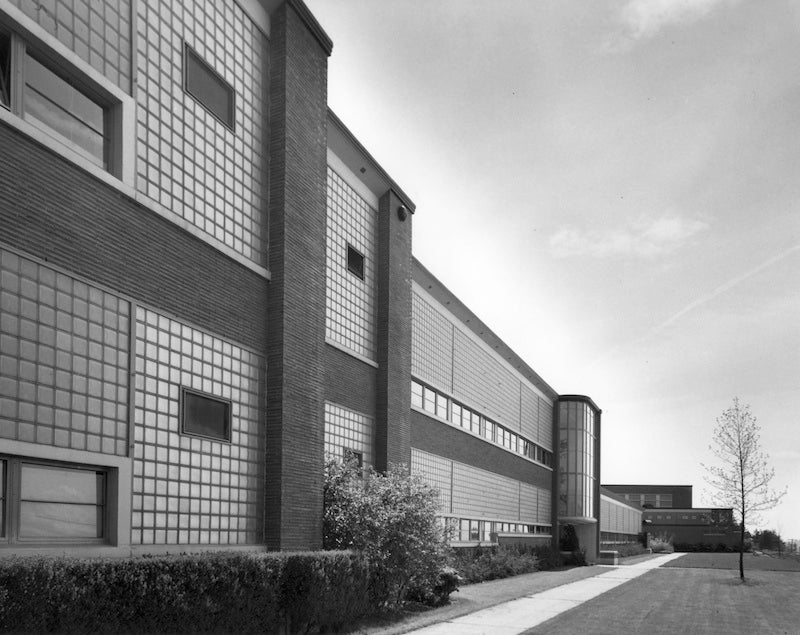 The west side of the building soon after construction completed. Photo courtesy of SPS Archives.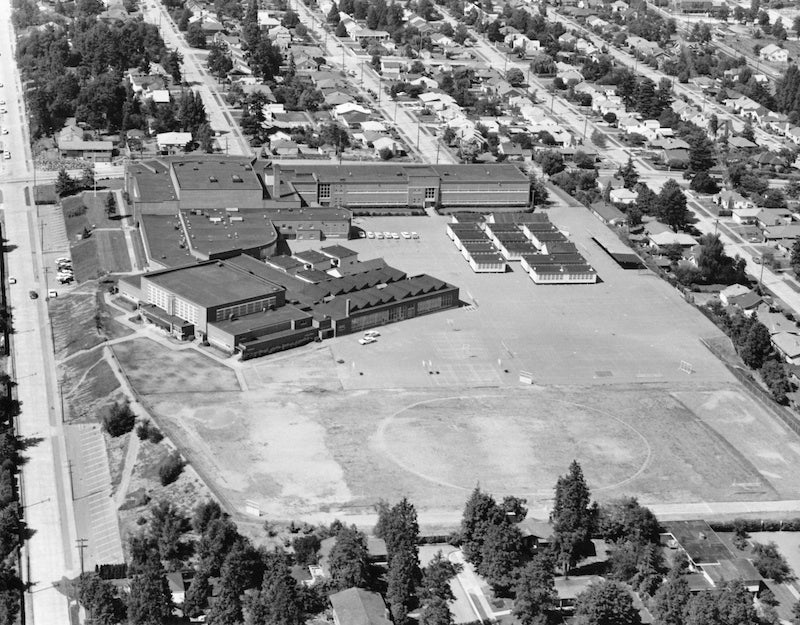 Aerial view of Eckstein soon after construction completed circa 1950. Photo courtesy of SPS Archives.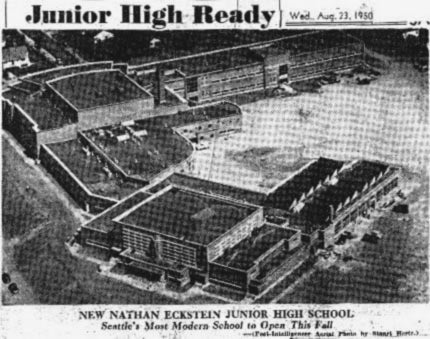 Newspaper clipping announcing the opening of Nathan Eckstein Junior High School.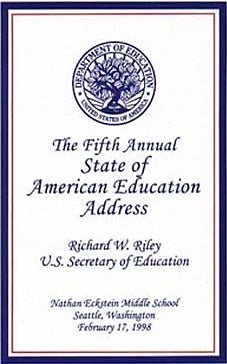 In 1998, U.S. Secretary of Education Richard Riley delivered his State of Education Address in Eckstein's auditorium.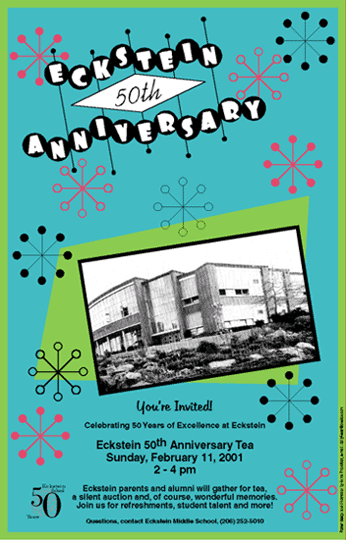 Biography of Nathan Eckstein
At the dawn of the new millennium, Eckstein celebrated its 50th anniversary.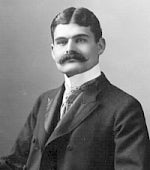 Nathan Eckstein was born on January 10th, 1883 in a small Bavarian town. His only formal education was attendance at a "Gymnasium" (German 7-12 grade school) in Munich. He continued his schooling until he was 14, and then came to live with relatives in the United States. His uncle provided him with his first job in America as an errand boy in a grocery business.
In 1898 he moved to Seattle and in 1899 he made the trip to Alaska. Upon his return to Seattle he went into business and was affiliated with the grocery and hardware trades for many years. Later he became President of Schwabacher Brothers and co., a large grocery chain. Nathan Eckstein was a strong believer in the American system of education, and served on the school board from 1914-1920, and as director of the Seattle Public Schools. Nathan was also very active in community affairs. He contributed his services to the chamber of commerce, the Seattle Community Fund, the City Charter Commission in 1925, the state tax investigation committee from 1921-1922, and was an active supporter of charitable organizations and a patron of the Seattle Symphony Orchestra.
"To be a useful citizen is more than a duty, it is a high privilege. To be useful citizens we would ever cheerfully work for the development and welfare of the city we live – for the progress and peace of the country we cherish". Eckstein made this statement on the occasion of his being chosen as "Seattle's most useful citizen in civic event sponsored by the Post Intelligencer in 1926. He was honored with many awards including that of "Most Useful Citizen". He died in 1945 at the age of 62.