Transportation
Transportation Information
2022-2023 Update from SPS:
Families with students who are eligible for transportation services will have their routes mailed to their home address by Aug. 31.
As shared with you this spring, the transportation challenges our district experienced in the 2021-22 school year remain. That means this fall, some SPS bus routes will not be in effect for the start of school. Families with routes that will not be in service will receive a notification before Sept. 7.
This year, we have two transportation vendors that will provide services for SPS students—First Student and Zum. Both are outside companies that provide school buses and transportation services. Seattle Public Schools does not own or operate school buses.
School districts across the country are experiencing a bus driver shortage and we are seeing similar challenges in Seattle. Also, the number of bus routes needed to provide transportation services for a two-tier bell schedule increases the need for more drivers.
Both companies have robust recruiting efforts, and we are optimistic that those efforts will help contribute to a long-term solution.
What is the long-term plan?
SPS Transportation and Operations staff will continue to work with schools, families, and partners as we get ready for the start of school.
First Student and Zum are working to recruit more school bus drivers. Once our partners are fully staffed with more drivers, we will add back bus routes as quickly as possible.
We know this solution is far from perfect, and we are doing everything we can to minimize disruption. Families who will not have bus service for the start of school may feel frustrated and upset. We are committed to making sure that all students who need it have safe and dependable transportation to and from school. We hope that the driver shortages will be resolved quickly so we can resume all bus service.
What can you expect from us?
Families of students who are eligible for transportation services will receive additional information about what to expect for transportation services for the 2022-23 school year and the start of school.
Route information will be mailed to your home address. Please let us know through our Let's Talk link below if you have not received your route information.
Additional transportation options
Free Metro Bus Service for Students
Starting Sept. 1, 2022, all riders 18 and younger can ride King County Metro, Sound Transit's Link light rail system, and many other regional transit services for FREE!
SPS students ride Puget Sound transit for free thanks to Move Ahead Washington, a statewide transportation funding package. Visit Free Youth Transit Pass for more information.
Walk, Bike, and Roll to School
Our transportation webpage has many suggestions and resources for students who are looking for additional ways to get to and from school. Families can find safe walking routes to school, community resources for free and low-cost helmets or bikes, and much more. Visit the SPS Transportation webpage for information.
Walk Zone
Students that live up to 1.5 miles from school are not provided transportation.
Orca Cards – NEW for 2022-2023
The district is no longer managing ORCA cards for students. 2021-22 Student ORCA cards will continue working through 2022-23, even if there is an expiration date printed on the back. Please register your ORCA card by June 30, 2023.
If your student does not have an ORCA card or lost their card, they can request an ORCA card or get a replacement card. Learn more on the district website.
While students wait for their cards from Metro, they may simply flash their student ID, to a Metro operator or Sound Transit Fare Ambassador, or if a student does not have a student ID, they may ride without one and will not be denied ridership.
Yellow Bus
Students that live over 2 miles from school and are in the Eckstein Middle School reference area are provided yellow bus service by Seattle Public Schools.
Search for Attendance Area School​
​If a student wishes to visit or be visited by another student and rides the school bus, a temporary bus card must be requested at the school for this purpose. Authorization for riding the school bus is based on space availability.
In order to receive a temporary bus pass we must have written permission from the visiting student's parent/guardian prior to the end of school day . You can email this information to Katy Ryan at karyan@seattleschools.org
We need to know:
The visiting student's name
The bus rider's name
The visiting student's parent/guardian's name and phone number.
Driving Your Student to School
Student safety is our number one priority. Help us keep students safe by following the directions below when dropping of a student before school.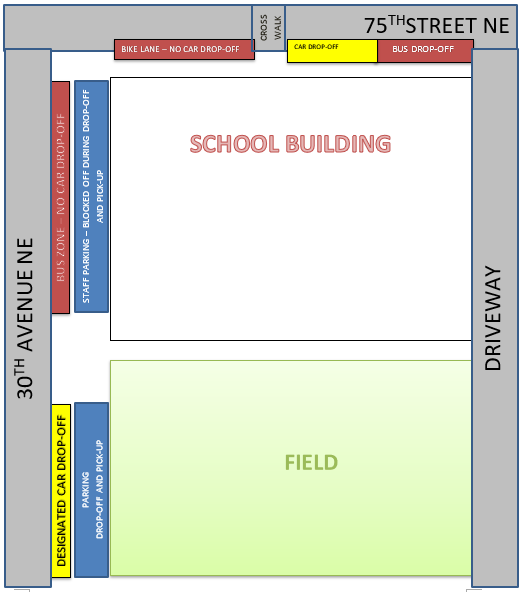 Dropping Off/Picking Up Students
If dropping off or picking up students on the north side of 75th Street, please direct your student to the crosswalk light on 31st Avenue. It is not safe for them to cross 75th Street at 30th Avenue or 32nd Avenue.
South side of NE 75th Street.
Do not drop-off or pick-up students in the Bus Zone. There is limited space on 75th Street just east of the crosswalk on 30th Avenue, before the bus loading zone. Students must be ready to exit the car when you stop. If not ready, drive around the block. No parking or waiting in the drop-off/pick-up zones 8:30 – 9:15 am & 3:30 – 4:15 pm.
30th Avenue
You can drop-off or pick-up your student on 30th Avenue by the southern most parking lot.
Dropping off and picking up students in the back of the school is ONLY for students that have difficulty walking this includes students in wheelchairs or on crutches AND picking up students that are in the Protected Health Care Room.

Our bus zone is small for the number of buses that use it, and the buses need to drop students off quickly and safely without the interference of other vehicles. It is illegal for a private vehicle to use a bus zone during the designated times.
Transportation
Seattle Public Schools provides free transportation for students who live within their school attendance area but outside the school's walk zone.
If a student is placed in a program, such as deaf and hard of hearing services, that is not available in your neighborhood (attendance) area school, transportation is usually provided.
Transportation Eligibility Guidelines
Elementary and K-8 schools have a 1-mile walk boundary. Eligible students are provided service primarily on yellow school buses.
Middle schools have a 2-mile walk boundary. Service is either by yellow school bus or ORCA card for the Metro.
High schools have a 2-mile walk boundary. Service is provided with an ORCA card.
Use our school attendance and option school transportation area maps to see if your child is eligible for transportation.
Safe Routes to School
Biking and walking are great ways to get to school. Use the City of Seattle interactive map to find safe walking and biking routes to your school.
Walk, Bike, and Roll to School
Walking, biking, and rolling to school supports exercise, reduces pollution, and connects neighbors. Studies even show students arrive at school more attentive and ready to learn. Visit this page for resources to support you in walking, biking, and rolling to school.
Delayed Bus
Bus routes are sometimes delayed due to traffic, weather, construction, or other situations.
If your bus is late, we recommend your student stay at the bus stop. Please create a plan and discuss with your student what to do if their bus is late.
View today's bus routes that are reported as running at least 15 minutes late.