WEB Day for Incoming 6th Graders – 8/28
Posted on: August 8, 2023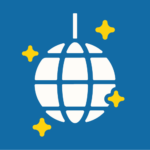 WEB Day for Incoming 6th Graders
Incoming 6th grade WEB Day
Monday – August 28, 2023
3:00 – 5:30 PM
WEB Day is on Monday, August 28, from 3-5:30 pm. The event is for incoming 6th grade students only.  No parents, guardians, or siblings for this event.
WEB Day includes an engaging assembly, fun get-to-know-you games in homeroom groups led by current 7th and 8th grade student leaders and a school tour.  It is a chance to make connections with other students, have fun, and get to know the school.
Please drop-off students for the 6th grade event at the front of the school on NE 75th Street at 3 PM.  NE 75th Street has a dedicated side lane in front of the school allowing vehicles to safely pull over and drop students off at the front of the school.  This is the designated student drop off/pick up during the school year as well.  Students will enter the school doors closet to the crosswalk on 75th and 31st. 
Our accessible drop-off location is behind the school just to the left of the loading dock.  To access, please turn right into the alley on the far east end of school off of NE 75th Street.  Once you enter the gate, turn right.  The loading dock will be straight in front of you. Upon entering the school, turn right to find the front hall.
We will have signs directing students where to enter the school and check-in. Once students arrive they will find their name tag in the front hall on tables, then move straight into our auditorium, and sit with other students in their homeroom class. We will have signs for where they meet their homeroom class in the auditorium.
After a brief welcome in the auditorium, students will then participate with their homeroom groups in a series of ice breakers and community building activities, get their class schedule, and take a school tour.  We will have staff and 7th and 8th grade student leaders on site to help the incoming 6th graders. 
The event will end at 5:30 pm with pick-up behind the school on Eckstein's back field.  You can park on 30th AVE NE and walk up the stairs to access the field.  Or pull in the driveway on the east end of the school off of NE 75th Street as another entry point to the field.
If your student is unable to attend WEB Day, please do not worry. We repeat the school tours, continue with community building activities in homeroom, and other information again on the first day of school.
If you would like to connect on your student and accommodations for WEB Day, please reach out so we can ensure we have the proper supports in place. Students enrolled in our Distinct, Focus, and Extended Resource programs will receive an additional invitation from their Case Manager. Please be watching email for more information.